MANUFACTURING – ERP – CORE – ELEMENTS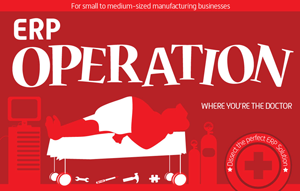 FOR SMALL TO MEDIUM-SIZED MANUFACTURING BUSINESS
ERP OPERATION – Where you're the doctor
*Dissect the perfect ERP Solution*
LEADING MANUFACTURES
Saw an average 12% improvement in operating margins as a result of ERP
WINNING THE GAME – Remove all 11 pieces and put them to work for your company
The player who sees the largest improvement in operating and profit margins as a result of their ERP implementation is declared the winner.
ONE, CENTRALIZED LOCATION
Whether in the cloud, hosted or on-premise, your ERP system is the brain of your manufacturing operations. With all of your critical manufacturing data stored in one location, you can better manage the growing complexities of your business, while staying nimble enough to change with the times and quickly pursue new business opportunities
REPORTING & ANALYTICS
See with your own eyes what's working and what's not. Using sophisticated ERP reporting and analytics tools, you can quickly analyze critical key performance indicators(KPIs) and track your company's performance
CUSTOMER RELATIONSHIP MANAGEMENT (CRM)
Lend an ear to your customers and suppliers. By adding integrated CRM and customer and supplier portals to your ERP toolset, you can achieve a far more complete understanding of your business and ensure your sales and marketing efforts are optimized and effective
Leading manufactures are 68% more likely than followers to supplement ERP with a CRM solution
DATA IMPORT
Importing your existing data is a piece of cake. When you're starting out with a new ERP system, you shouldn't have to worry about how your existing operations are going to run in the future. Look for a vendor who has the implementation tools available to make it easy for you to import your existing data in your new ERP system
MATERIAL REQUIREMENTS PLANNING
MRP is essential to help you control the flow of materials through your facility. With MRP you can balance the supply and demand for all component parts needed to satisfy your master schedule.
MATERIALS MANAGEMENT
Automate and control the purchase, delivery and tracking of your materials and parts in the most efficient (and robotic) manner. You can even use bar code data collection to eliminate human error and achieve optimal control of your shop and material transactions
DOCUMENT & WORKFLOW MANAGEMENT
No more writer's cramp! Automation is key.  A Substantial apart of the cost and time associated with regulatory compliance is paperwork (maintaining an audit trail, ensuring everything is in the format required by different agencies, etc). So stop writing and automate your manual and hidden processes
RECALL MANAGEMENT & WARRANTY TRACKING
Get the layer of protection you need in case your business spends a little too much time in the spotlight due to a recall or defective product. Automate and document recall processes, manage warranty processes and improve response time and accuracy of Return Material Authorizations (RMAs)
Leading manufactures are 3X more likely than followers to have implemented processes and tools for a mock or recalls.
ENGINEERING CHANGE ORDERS(ECOs)
Growing pains are inevitable (and not necessarily bad). Automating the flow of documentation is key to keeping product development on track, reducing potential errors and minimizing development delays-leaving your company in a good position to grow and be first to market with new concepts
Discrete manufactures as a whole generate 44% of their total revenue from new product.
MOBILE ERP & AUTOMATION
Soak up some vitamin D and get business done away from your desk. With mobile ERP you can access your real-time ERP information anywhere you have a wireless or data connection. Enter quotes, conduct material transactions, receive Pos, and more.
PRODUCTION PLANNING & EXECUTION
Move your parts and finished goods throughout your shop with ease.  From the manufacturing processes you use in your shop, to the critical information you must keep organized while managing your material through a subcontractor, ERP offers production planning and control tools to enhance productivity and accuracy.
Leading manufacturers are 1.9x more likely than followers to have standardized procedures for production planning and execution.
TIME FOR A CONSULT?
Learn more about what Emerging Alliance has to offer.
Visit http://www.emerging-alliance.com/