SAP Business One / SAP B1 ERP for Mining Industry Solutions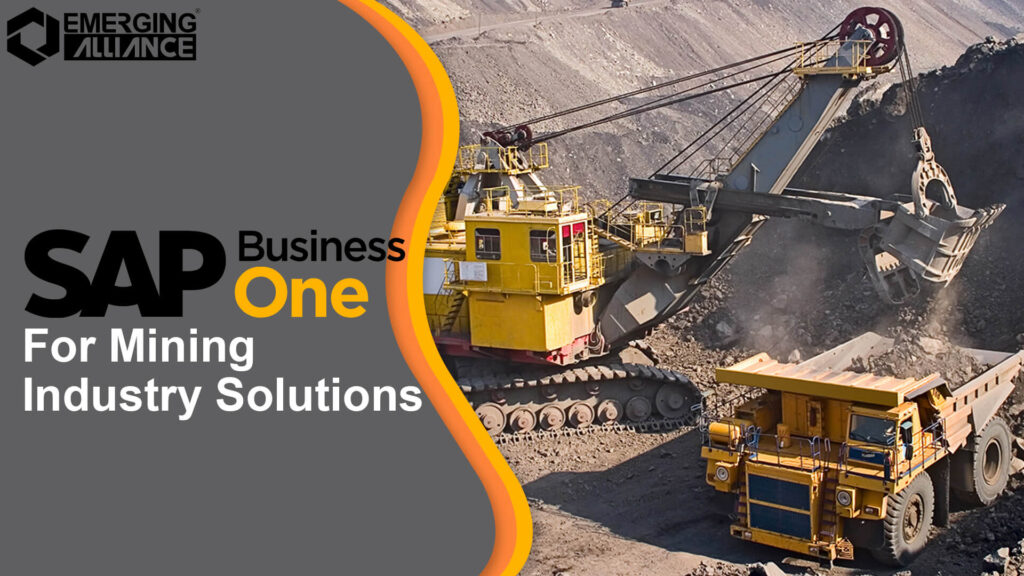 SAP Business One implementation in mining industry
Mining Industries are engaged in the manufacturing and production of various machinery and components, and creating sales quotes and related items is one of its key responsibilities. In addition to that, Mining Industries must also focus on cost control, quality control, and optimal utilization of resources. SAP B1 ERP Software ensures that Mining Industries meet all these challenges and demands effortlessly. The modules in SAP Business One cover all the key operations and processes of Mining Industries, and the performance is highly enhanced.
The key modules of SAP Business One ERP System for Mining Industries are as listed below:
Order to cash
The process to make an order in SAP Business One is as follows:
Once we receive customer the enquiry, it's then decided, which Engineering team creates FG and makes a Bill of Material for it, to arrive at an estimated cost and plan. After that, it's decided on which sales team prepares commercial quote and submits.
After receiving a customer purchase order, a sales order in SAP B1 is created, as per which FG is produced, followed by an Accounts receivable invoice and Incoming payment (major reports being Customer receivable, Cash flow, and Sales analysis)
Procure to pay
Using the MRP function, the purchase request is auto-created by BOM, and the BOM is converted to a Purchase order against which Goods receipt is done. As per that, the Payable invoice and Outgoing payment are made. Major Reports such as Vendor payables, Cash flow, Purchase analysis, Minimum order quantity, re-order quantity, and lead days are incorporated based on item, which plays a vital role in procurement, in Mining Industries.
Sales order
SO is created once the PO is raised or the quotation is confirmed by the customer. Using DMS PO softcopy is also attached. Payment terms and Delivery date is fixed. Then send Order acknowledgment from SAP Business One by email.
Sales Quote
Sales quotation is provided for the Mining Industries customers from SAP B1 once confirmed, and it is converted to Order and the quote is closed.
MRP
MRP is used for production planning in Mining Industries. Procurement of raw materials requires stock consideration and open PO (Purchase order is auto-created as Order/Demand). And this is one of the critical aspects of Plan to produce.
Purchase Request
PR is auto-created by Material Requirements Planning, and even PR is created manually based on the department, as per their requirement of office equipment, consumables, etc. against which the PO is generated.
Purchase Order
On basis of the Purchase request, the PO is created by approval procedure.
GRPO
Based on the PO, when the Vendor delivers the item, the Goods receipt against PO is posted, which debits the inventory (Stock adds in the warehouse – WMS)
Supplier Payment
On basis of a GRPO, a supplier invoice is added against which the Outgoing payment is done.
Production
As per the BOM, considering demand and stock by MRP, the production orders are auto-created. RM is issued based on route stages and once all the stages are completed, the receipt from production is done, where the finished goods come to inventory (Product Costing is a critical aspect of SAP Business One).
Invoice
Account Payable / Receivable invoice is created and as per it, the payment entries are posted (Open document system gives proper control).
Service
The equipment card is auto-created for each serial number and item dispatched. Based on that, the service call is created and the cost for it is also recorded at periodic intervals.
These are some of how SAP Business One benefits Mining Industry and increases its operational efficiency. Also, the overall performance of Mining Industries can be drastically improved.