MANAGE YOUR PRODUCTION PROCESSES EASILY WITH SAP BUSINESS ONE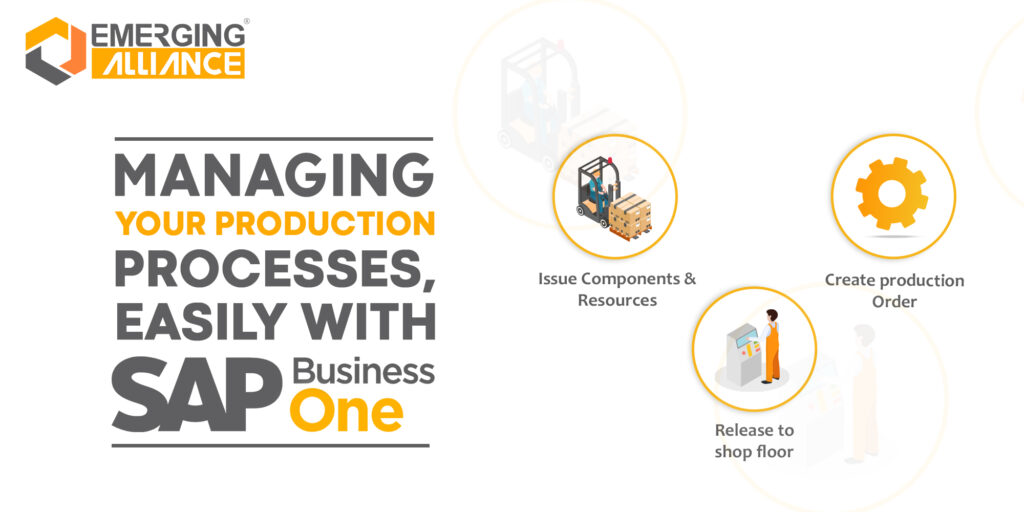 SAP B1'S simplified planning and control for production
Let us start the production process for the Decorative Wooden Door.
Once the production order is entered, the following happens:
The quantity of the item components of the production order is subtracted from the Available quantity of the items and became a Committed quantity (we can see it in the Item Master Data à Inventory Tab)
The capacity of the resources of the production order is subtracted from the Internal Capacity and became a Committed Capacity
The production manager changes the status of the order to Released to start the production process.
Once the status has been set to Released, we can:
issue components (depends on the issue method),
receive the produced item into inventory and
report completion for the production order
You still have the option to add or change components and resources that have not yet been issued.
Since OC WoodTrend manages the shop floor area as a separate warehouse, the production manager transfers the components from the main warehouse to the shop floor. He does this by creating an inventory transfer from the context menu of the production order.
The Issue for Production document subtracts the components from inventory and changes the capacity of the resource from Committed to Consumed.
Component items and resources can be issued using either the Manual or the Backflush method. The default issue method is defined in the master data of the item and resource. Then, this default is copied to the Bill of Materials document and can be changed at the row level. When the Bill of Material document is copied to the Production Order, the Issue Method in the rows is copied but can be changed again.
With the Backflush method – once a Receipt from Production is created (reporting completion), SAP Business One automatically issues the needed component items.
With the Manual method – the items and resources are not automatically issued. This enables you to post components issued to a production order precisely when they are required in the production process and also issue a partial quantity if needed, even before reporting completion.
Choose the context menu of the Production Order to add an Issue for the Production document. Alternatively, Go to Issue à production under production.
Note: Items that are managed with serial numbers or batch numbers cannot be backflushed; therefore, they are automatically set to a manual issue method.
Get started today.
Visit: www.emerging-alliance.com