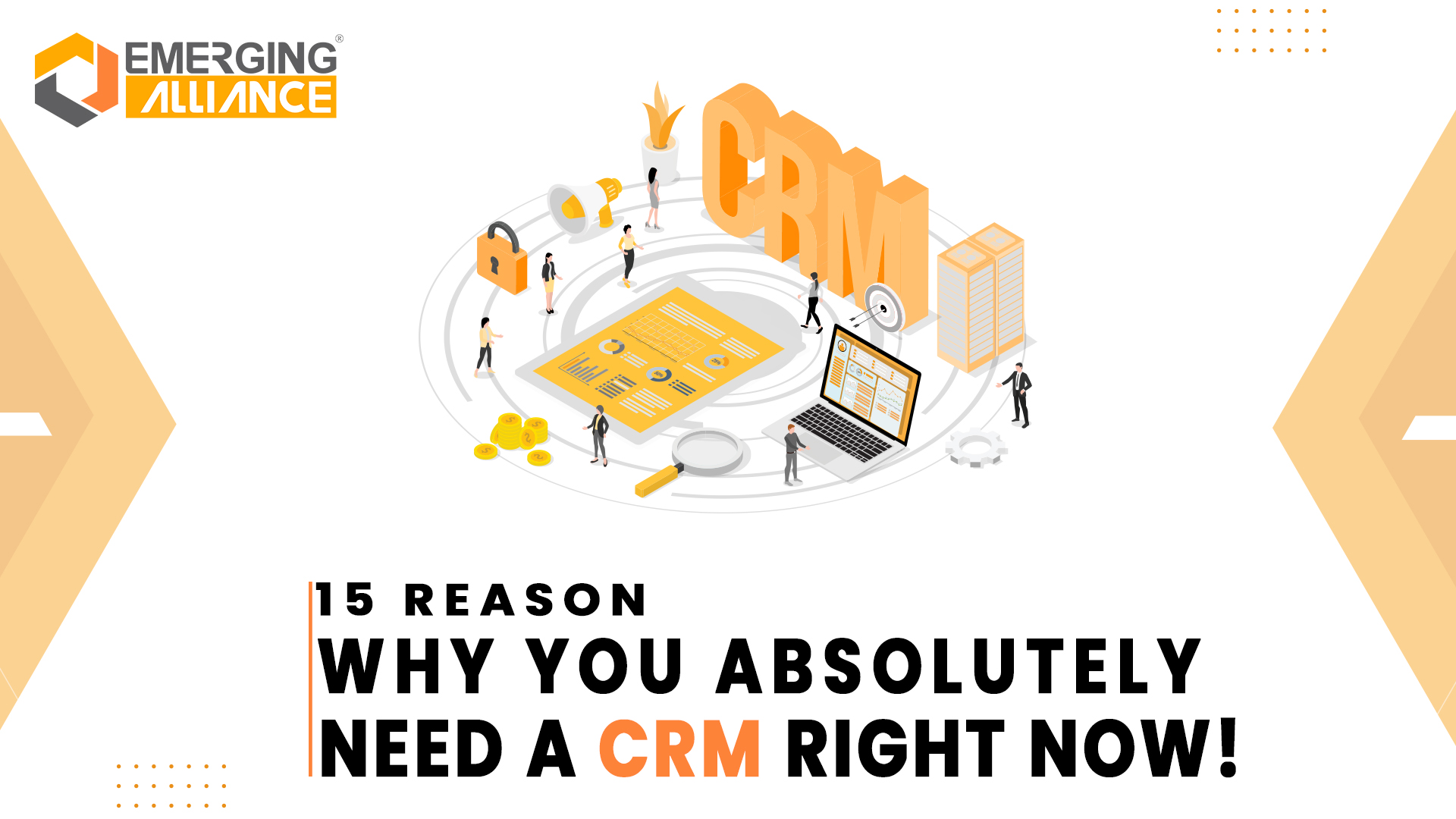 15 Reasons Why You Absolutely Need A CRM Right Now!
IMPORTANCE OF CRM SOFTWARE:
Having a customer relationship management system extends beyond running a business. A CRM system basically helps your business improve the relationship with existing customers, find new customers and win over former customers. This system is integrated into a software system that facilitates the collection, organization and management of the customer's information.
1. ABSOLUTE AUTOPILOT:
A CRM helps streamline sales, marketing efforts, customer service, accounting, and management for growing companies while reducing human errors.
2. WINNING CUSTOMERS:
A CRM helps keep track of interactions, data, and notes about customers or a potential customer. It automates customer communication to be informed.
3. PERSONALIZATION AS YOU PLEASE:
Allows personalization of products according to your and your business needs. Be that industry-specific, target audience, age group, gender-specific, etc.
4. CAMPAIGN CONTROL:
Computes the marketing campaign entirely from analyzing the campaign, tracking social media campaigning, computing the campaign cost to predicting future marketing strategies.
5. CUSTOMER SEGREGATION:
CRM helps separate customers into groups based on various factors such as geographical location, personalization, age, buying pattern, interests, requirements etc.
6. SPRINT THROUGH THE SALES CYCLE:
Effectively helps the salesperson skyrocket through every stage of the sales cycle with ease from tracking all potential leads, and communicating with customers to wrapping up the sale.
7. IMPROVED CUSTOMER SATISFACTION:
CRM automates service processes to manage and handle customer complaints, grievances and suggestions thus improving customer interaction and satisfaction.
8. TASK MANAGEMENT:
CRM makes it super easy to allot tasks among employees taking their availability, skills, interests, geography and specialization into account.
DEFINITIVE INCREASE IN SALES:
CRM definitely will help you increase sales as it promptly addresses customer issues on time, runs and oversees campaigns, keeps you well informed to make foolproof decisions.
FILTERING COMMUNICATION CHANNELS:
CRM helps you communicate with customers through their preferred channels and immediately respond to their queries, grievances and suggestions.
BETTER DATA PROTECTION AND TRACEABILITY:
The customer data is protected and is visible only to employers as per their roles and responsibilities. CRM analyses all data and generates detailed reports.
REMOTE ACCESS TO DATA:
Helps employees to access customer data and work, respond to customers from their mobile phone, smartphone, remote location anywhere and anytime.
COST-EFFECTIVE:
CRM is a true saviour as it saves you both cost and time. Not just that, CRM saves manual work, errors, company resources and keeps you on top of it all.
UNITES ALL DEPARTMENTS:
CRM successfully unites all the departments in your organisation under one roof such as sales, marketing, logistics, customer service etc.
FACILITATES OPTIMIZED MARKETING:
CRM enables a business to understand the needs and behaviour of its customers. This allows them to identify the correct time to market their products to customers.