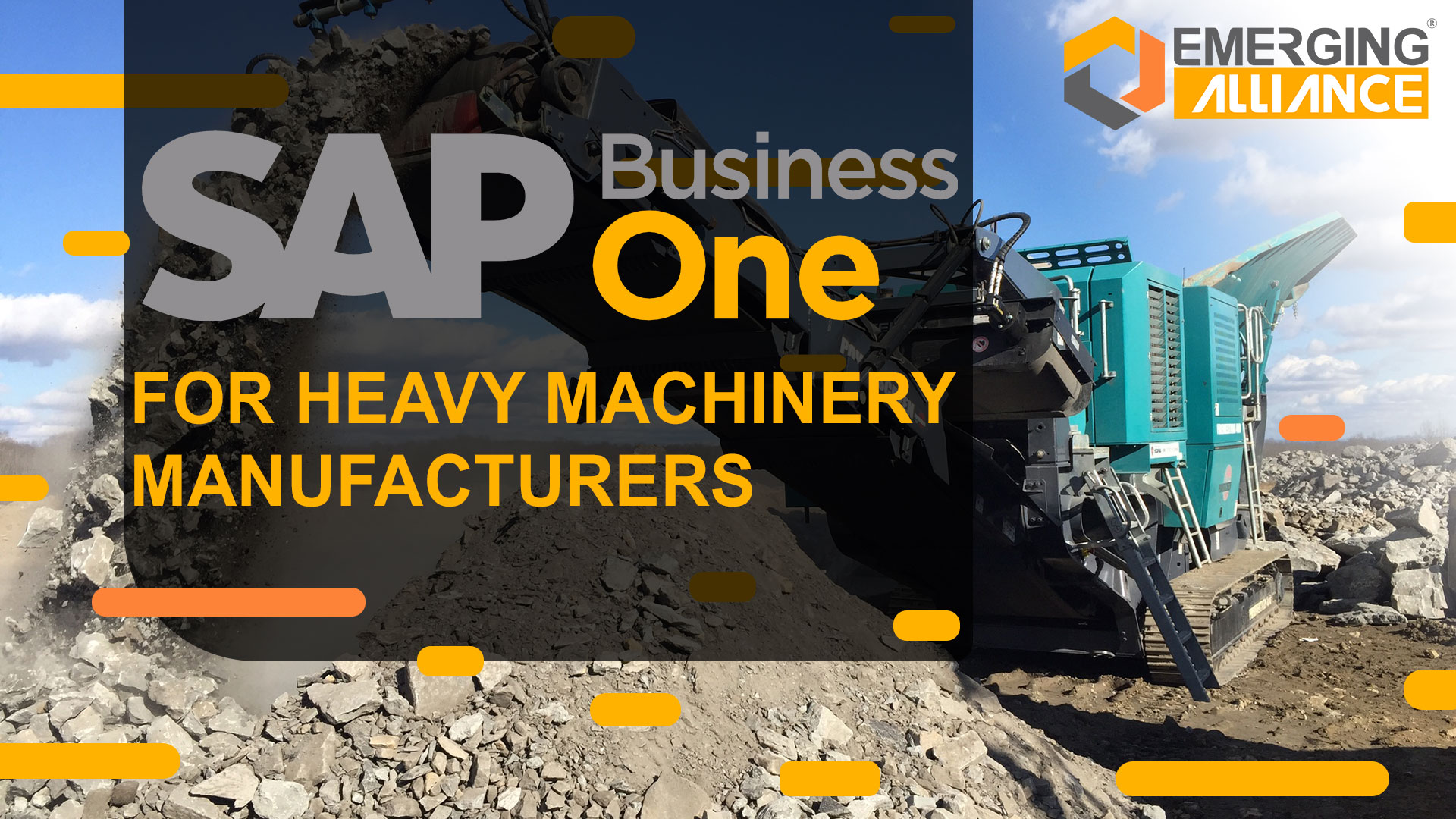 SAP Business One / SAP B1 for Heavy Machinery Manufacturers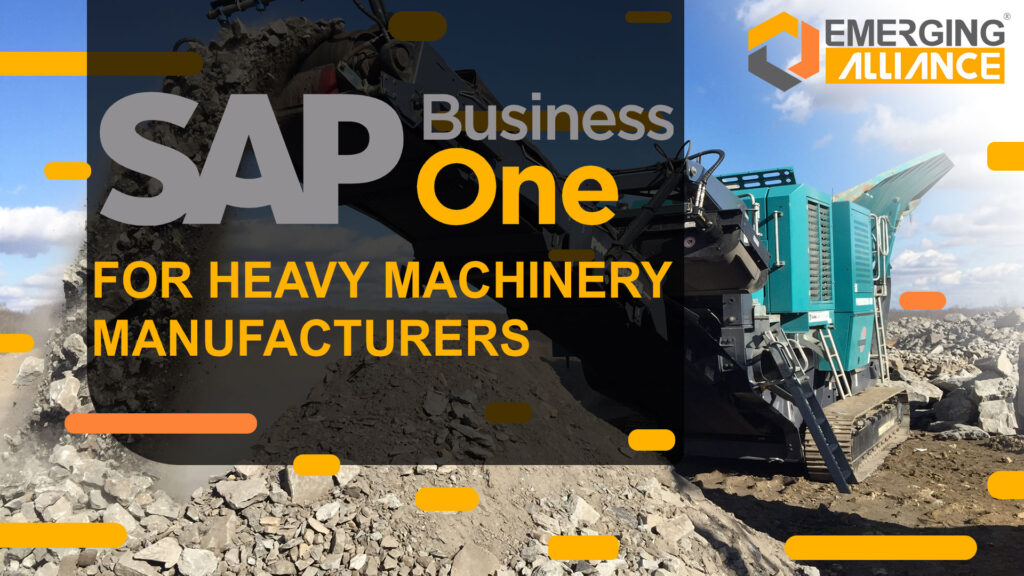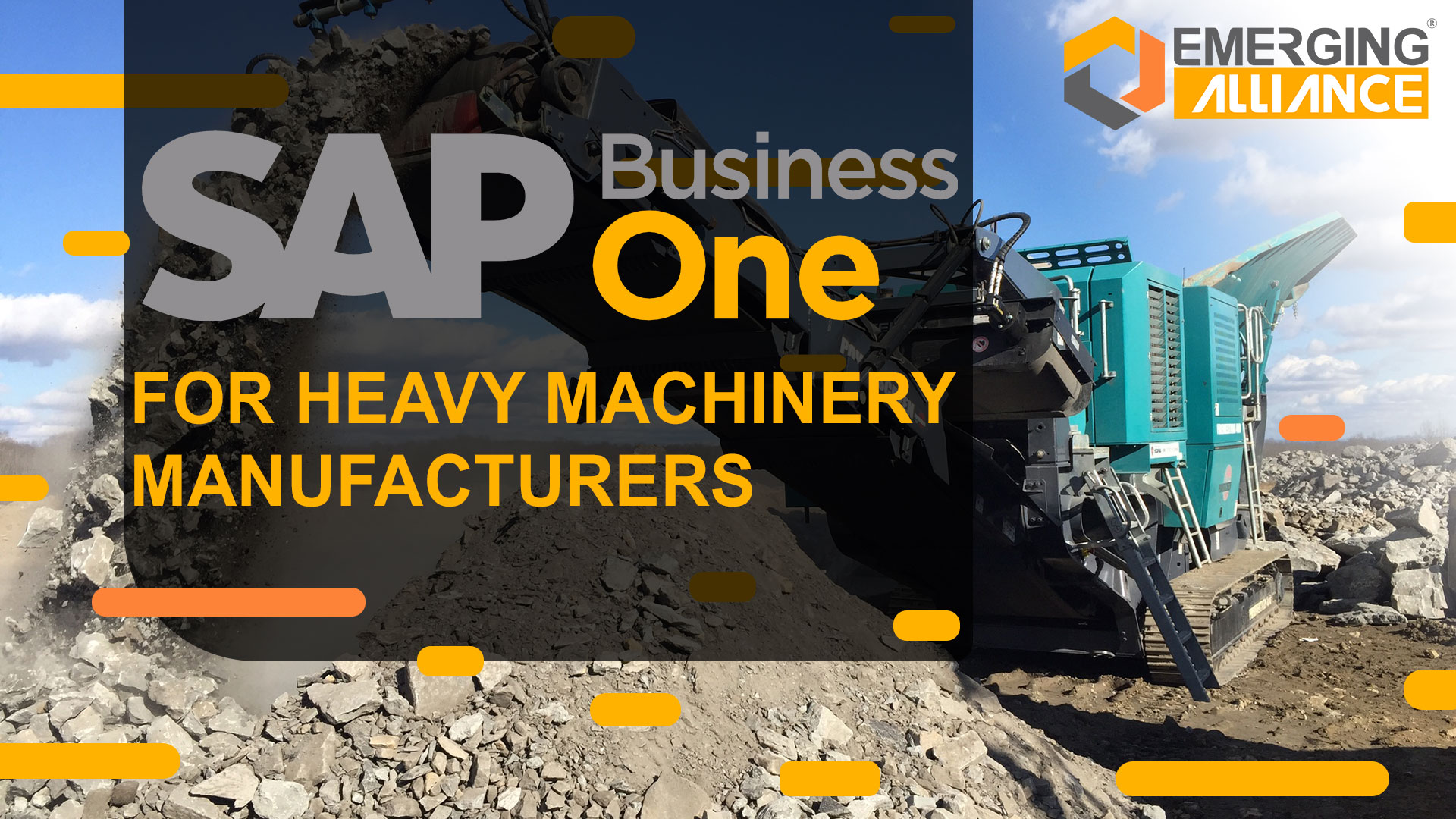 SAP B1 for Heavy Machinery Production and Service
Worldwide, the heavy machinery industry is growing exponentially, and service providers in the machinery and components sector face immense pressure due to the huge scale of work which includes project management, loading of heavy machinery, transportation, warehousing, and other tasks. They do face a lot of transportation issues and having a system that integrates different departments of the company is an issue. SAP Business One, a world-class ERP system for the machinery manufacturing industry offers an ERP solution, SAP Business One that integrates the processes and helps in improving efficiency and productivity.
To comply with safety standards, for example, mechanical components must withstand strain and pressure vessels. Companies must also produce quality products that meet their customers' needs. SAP Business One, a flexible manufacturing management system, can help companies in this industry save on production and supply chain management costs.
The SAP Business One for heavy machinery manufacturing like jaw crushers, impactors,  conveyors, feeders, etc requires extreme efficiency and accuracy at the same time. Heavy machinery manufacturers produce several items for different clients produced through a series of processes for variety of clients. Hence it becomes difficult to manage the production of several different items in the same facility without any scope of error. Moreover, clients nowadays demand quick changes in design, last-minute orders, and shorter lead times. Fierce competition, thin margins, and strict quality compliance add a cherry to the cake.
Thankfully, we have state-of-the-art ERP software called SAP Business One which can streamline even the most complex process of the heavy metal manufacturing industry resulting in increased efficiency, reduced lead times, and increased revenues.
One of the most important features that an ERP for the machinery manufacturing industry should have is its integration with CAD software. Manufacturers rely on CAD drawings of items to generate a Bill of Materials which acts as an input for other functions like raw material ordering, generating job cards and billing purposes. SAP B1 can be readily integrated with any CAD software such that it automates the generation of BOM from the CAD design. This is helpful in the case of a custom job where the client needs to change the design midway. SAP Business One instantly identifies the changes in CAD design, updates the BOM, and transmits to other functions.
Benefits for the machinery & components industry:
Fast growth with a flexible, innovative solution
Optimized production processes
A 360-degree view of your company with analytics to monitor continuous improvement
Streamlined business processes to suit market needs as your company grows
Improved integration to ensure your company uses time and resources effectively
Let us go into detail about how an order is actually processed in a machinery industry with the help of SAP Business One.
Order to cash cycle
Once we receive a customer purchase order create a sales order in SAP, once FG is manufactured we do accounts receivable invoice and as per incoming payment (Major Reports – Customer receivable, cash flow, sales analysis)
Planning
As per the sales order received we run MRP wizard monthly basis in SAP – considering BOM and stock Purchase request for buy item and a Production order for make item is auto-created. Even MRP runs on basis of a direct production order for stock (Reports – Order recommendation)
Procure to pay
As per the purchase request created from MRP – our purchase team creates a purchase order followed by stores team goods receive again purchase order (Stock comes in inventory) as per its accounts payable invoice and as per its outgoing payment. (Major Reports – Purchase payables, cash flow, Purchase analysis)
Production
As per the work order created from MRP or directly, we issue the raw material stage-wise and once production is completed by the receipt from production FG comes to stock.(Major Reports – Costing and Variance Report)
Service
Each FG item is with a serial number once any invoice is created, an auto equipment card is auto-created and for which services will be done and as per it any part replaced or any expense as per service will be recorded.
From the above discussion, we can conclude that heavy metal manufacturers face various challenges in sustaining their profits owing to business complexities, high-value clients, thin margins, and increasing globalization. But all these challenges can be minimized by deploying an advanced ERP for manufacturing systems like SAP Business One which can streamline their business and keep them relevant to their clients not only today but even in times to come.