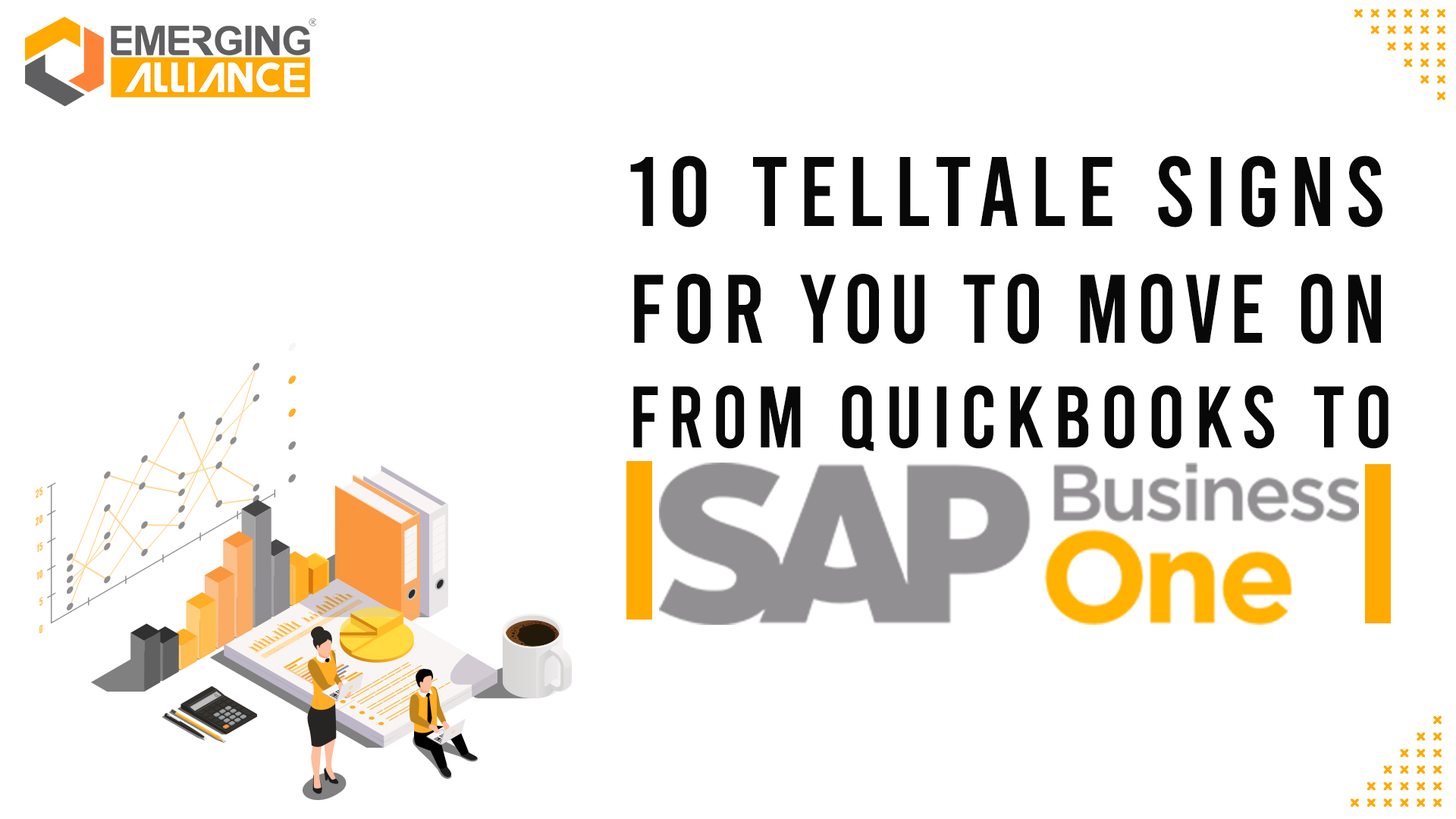 10 telltale signs for you to move on from QuickBooks to SAP Business One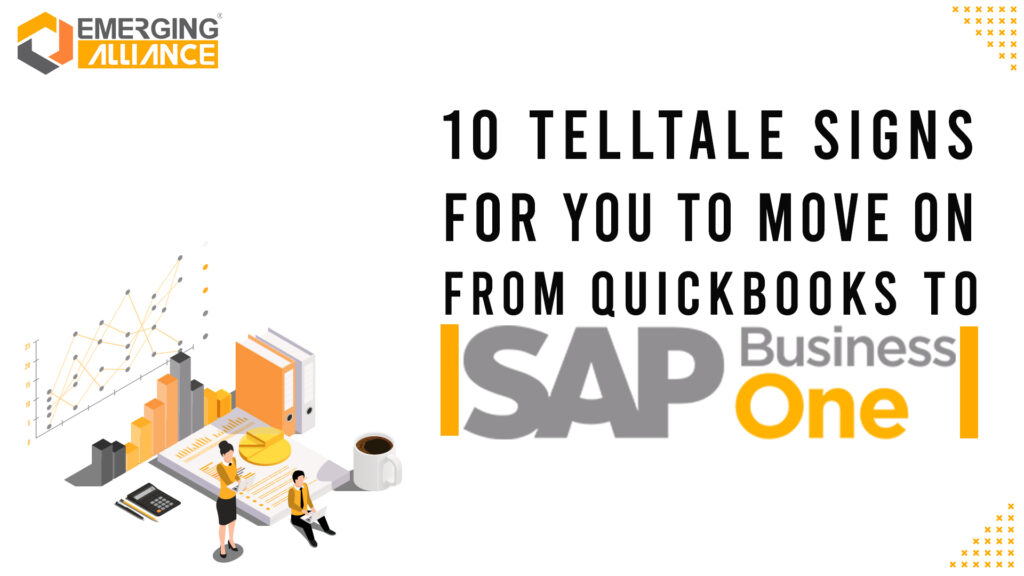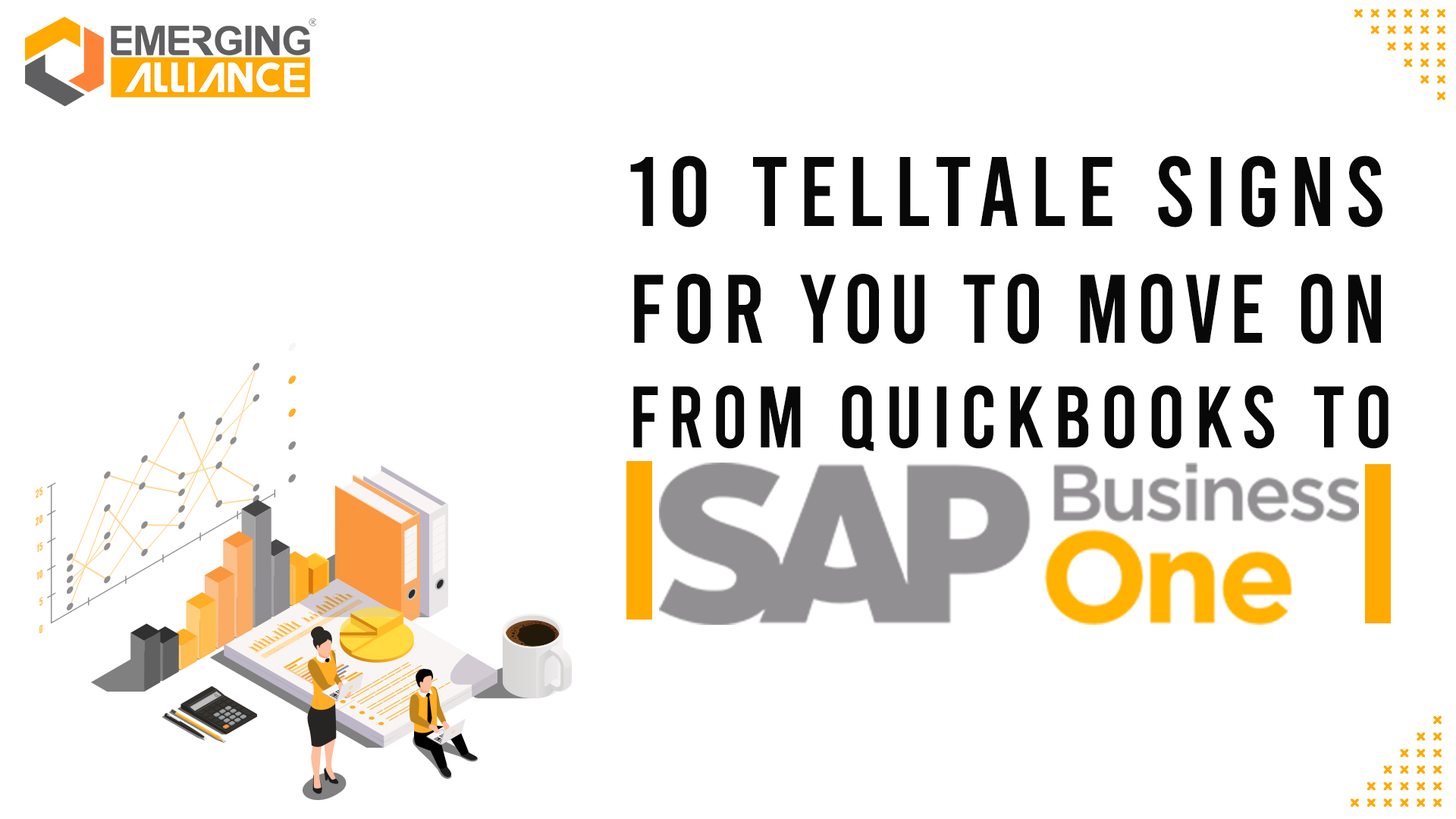 Comparing SAP Business One with QuickBooks:
Let us start with the obvious facts. Quickbooks are everywhere! They are wildly well-known financial management software, still propelling strong. There are currently over a 2.2 million subscribers for QuickBooks online, a very big number for sure. Quickbooks is by all means a really fantastic product for Self-Employed Users, Freelancers, and Small-Business owners. It all works great when the business is humble. Once and eventually when it does start thriving, say, your company grows beyond 10 or 20 employees, you will very quickly outgrow Quickbooks. You will be in dire need of a better adapting and supporting software that better suits a growing small-to-midsized business. But when do you really know it is time for the upgrade?
Here are some obvious signs to look out for:
The number of spreadsheets used in your business on a regular basis starts to grow. Like, really grow. Information in QuickBooks have no central location for data analysis. Meaning, spreadsheets become inevitable—and dangerous—workarounds. Importing data and feeding it all in the spreadsheets wastes time and causes expensive mistakes, out-of-date data, and security risks.
QuickBooks cannot provide deep financial and operational insights, handle complicated needs like multi-entity consolidations, or supply real-time information. It also cannot customize reports or manipulate data, preventing you from making bold decisions on the fly.
Struggling with decision making:
If you're working with numerous systems and juggling through spreadsheets, it's hard to make accurate forecasts—and without accurate predictions, you cannot make fast, strategic decisions to outsmart your competition. You ought to be ready to continually predict and forecast when cash will come in.
As your data volume increases, you'll notice an unfortunate screen delays in QuickBooks. This might lead to them taking longer to print reports. The software also tends to get glitchy during queries and other basic functions. Crunching more numbers will cause QuickBooks to be sluggish and force users to exit the program to keep up the data files. Worst case scenario? QuickBooks crashes and loses your data.
You expanded your business, congratulations! Maybe to a different country, or maybe you operate under different time zones. Your team won't be able to access real-time data and thus continue to rely on guess-work rather than up-to-date information.
You would like to integrate your accounting software with other systems. Automate the software. Unfortunately, there are certain limitations when to comes to QuickBooks' ability to integrate with a 3rd party software.
You would like to do business online, keep up with the hype and would like to merge your front-end shop orders directly with your back-end accounting software. Now this is a task with Quickbooks. You will need another software apart from QuickBooks to manage, orders, deliveries and inventory that amalgamates with your online shopping cart or e-commerce software.
You will need interactive reporting. You will need real-time dashboards on information across your business. You would find it more comfortable to see your main KPIs on a real-time basis, remote access, ideally on your mobile device.
You would like to keep track of customers much earlier in the sales cycle to anticipate their needs and keep them satisfied. You need a software with the luxury to track prospects, follow-up on opportunities, manage quotations and sales orders, and you would like to be able to see the complete customer history for the people you do business with – and you really don't want to build another spreadsheet or worse, many.
Or the worst one yet, Your accounting team is overworked, threaten with resignations, as they have to work overtime during every month-end closure.
Okay, I think I have made my point. Quickbooks is a really great software when it comes to Freelancers, Self-Employed users, and small business owners. It is inexpensive, flexible and can do the job fine and smooth when the business is small. But once your business grows and you have more than one person running your accounts and when you have hoards of inventory, delivery, and CRM integration needs, you really should consider an ERP solution that scales with your company.
Introduce SAP Business One to your business:
Your small business is growing! It is not small or humble anymore, and that's a good thing. Great thing! But if you're still using QuickBooks, you are probably trying to make a software typically handcrafted for a small business run its last lap.
You may think moving from QuickBooks to an enterprise resource planning (ERP) solution is complicated and expensive, but it's not, at all.
SAP Business One is flexible, decent priced,modular, powerful and simple to use with a user-friendly interface.
1. It's a One-Stop Shop
Unlike Quickbooks, SAP Business One is an all-inclusive software designed to manage and oversee all of your business's needs. Its features span from inventory control, finance, operations, human resources and business process management to CRM. SAP Business One automates key functionalities in a business.
It's tailored for your Business
SAP Business One is built around you and your business, no the other way around. It is customizable to the teeth. It is a software handcrafted to be uniquely tailored to fit the unique needs of each and every business. You do not have to deal with generic reports no more! SAP Business One is also customizable and flexible with over 500 add-on solutions handcrafted tastefully and specifically for each business or special functions.
While Quick books is for small to growing businesses, ERP solutions are designed for growing small to midsized businesses (SMEs). With SAP Business One, every aspect of your business from finance, Logistics, human resources, CRM, procurement, projects, to supply chain is amalgamated together in one unanimous powerful, easy-to-use platform. With the right ERP solution, you can seamlessly integrate with various applications, automate crucial and critical processes, make customers happy, serve them better, and efficiently run your business in ways that are not possible with just QuickBooks.